Welcome to
MSU Mississauga Ltd.
We are North America's premier manufacturer of access hatches, climbing rungs, ladders, railing systems, stairways, and specialty hardware for the water and wastewater industries.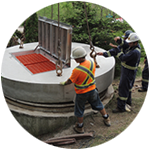 Customers
Want to get your projects done on time and on budget? You need a partner you can count on. MSU works hard so that our clients get what they need, when they need it. We value your time and your business, you can trust us to get the job done.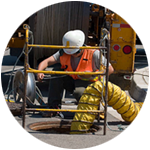 End Users
MSU stands for quality and compliance. If you want products and services that will meet with industry standards without question, contact us. Safety is something we take very seriously and know that our clients do too. Get it right the first time.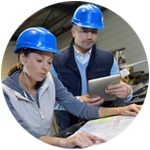 Designers/Specifiers
40 years of experience, knowledge and expertise. Our longstanding history means designers and specifiers can count on us. We know how to design and deliver products and services in a way that supports your project's success.
Design and Manufacturing,


Innovation and Customization.
MSU Mississauga Ltd. has unparalleled experience when it comes to metal fabrication in the water and waste water industry. With dedicated commitment to compliance, safety, and quality, we strive to exceed our customers' expectations and deliver what they need in a cost-effective and solution focused way.
From access hatches, grab bars, ladders, and catwalks – we can provide what you need for your project and have a team of experts who will work with you to get the job done right. No surprises.

96%
Customer
Satisfaction Rating

25+
Years Certified by the
Canadian Welding Bureau